Honouring Our Treaties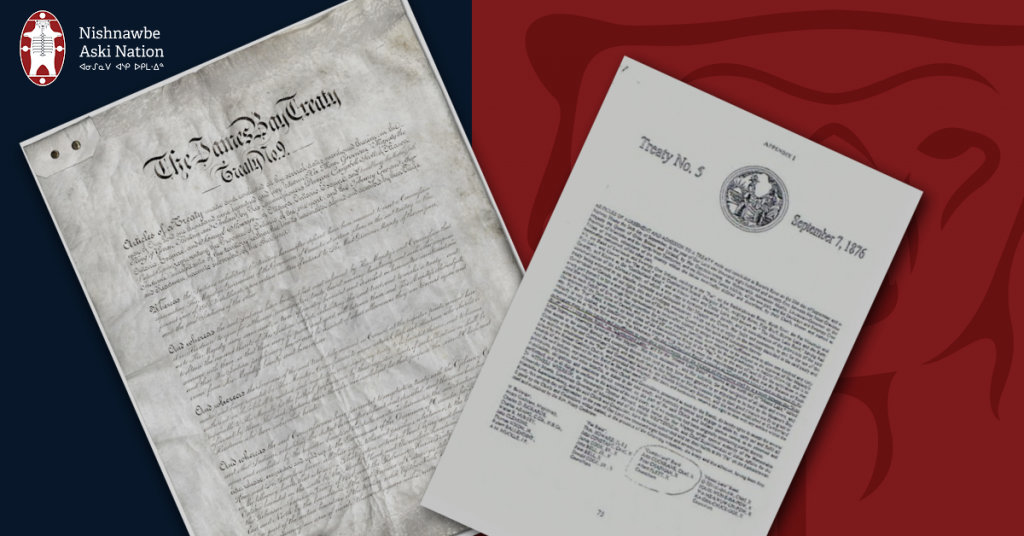 In 1905, as Canada was expanding, the Crown came to Nishnawbe Aski Nation territory to enter into Treaty. This process was dictated by the Royal Proclamation of 1763 which recognized our sovereignty and Aboriginal titles to our lands.
Treaty No. 9 (The James Bay Treaty) was agreed to by the Ojibway (Anishinaabe), Cree (Omushkegowuk) and other Indigenous Nations and the Crown (now represented by the Government of Canada). First entered into in 1905-1906, Treaty No. 9 covers the watersheds of James Bay and Hudson Bay, about two thirds of the landmass of the Province of Ontario. Treaty No. 9 established the nationhood of Nishnawbe Aski Nation. It is the only Treaty in Ontario signed by both Canada and Ontario.
Treaty No. 5 was signed in 1875, and an adhesion was signed in 1910 to include several NAN First Nations near the Manitoba border.
Today, our Treaty and Aboriginal Rights are recognized and affirmed in section 35 of the Constitution Act, 1982. Treaty No. 9 and Treaty No. 5 are the basis of the relationship between the First Nations of NAN, and the governments of Canada and Ontario.
This year, the NAN Education Department launched a community building campaign with a large-scale interactive display. This project was funded by the Ontario Ministry of Education as part of recommendations identified through the Seven Youth Inquest in 2016, to address racism experienced by students attending school in Thunder Bay.
The display consists of 16 panels covering approximately 1,500 square feet. It covers Treaty relationships and aims to dispel myths in a way that participants can engage at their own pace. The panels are currently on display at Lakehead University.
We encourage NAN members and the public to take some time this week to learn about our Treaties by exploring the resources on this page.
Miigwetch!
Explore the panels through this digital page-turner experience!