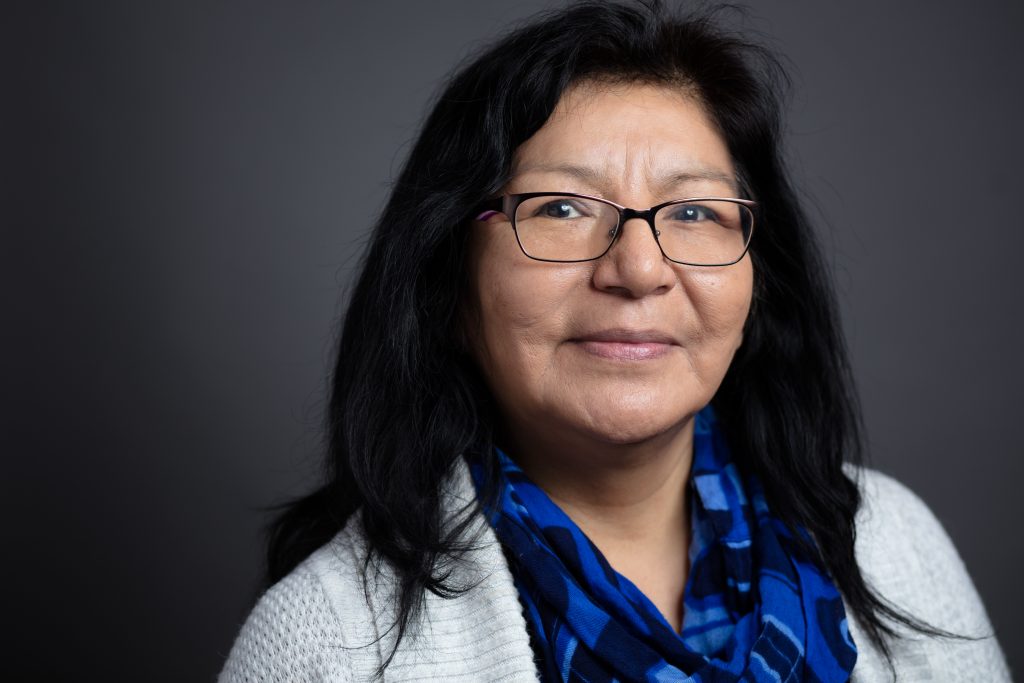 Anna Betty Achneepineskum is Anishinaabe-Mushkego from Marten Falls First Nation (Ogoki Post). She was re-elected in August 2021 as the Deputy Grand Chief of Nishnawbe Aski Nation, having previously served as Deputy Grand Chief in 2015-2018. Her current portfolio responsibilities range from community wellness, crisis response, child welfare and child development, justice and policing, women, homelessness, and former Indian Residential Schools.
For over two decades, Anna Betty has worked in the justice and legal fields in the areas of legal aid, restorative justice, and community development. Most recently, she worked as a Director of the Child and Youth Wellbeing Program and Lead Coordinator on Pandemic Response for Marten Falls. Anna Betty is an Ex-Officio with the Nishnawbe Aski Police Service Board. She has served on various boards and advisory groups over the years, including the Indigenous Justice Advisory Group with the Ministry of Attorney General, and the Board of Directors of the Matawa First Nations Management. Anna Betty's life work and contributions are driven by a passion to help the most marginalized people, especially the people in Nishnawbe Aski Nation territory and in the community she resides. In whatever she does, she advocates for equitable access to justice and other services, and for improving the quality of life, community wellness and safety for all NAN citizens.
Anna Betty is the Ontario representative on the Assembly of First Nations Women's Council, Indigenous Women's Advisory Council and Chair of the First Nations Women's Caucus. She also represents Matawa Tribal Council on the Nishnawbe-Aski Police Service Board of Directors.
Anna Betty currently resides in Thunder Bay. She credits her six children, five grandchildren and her first great-granddaughter as the inspirations for her lifelong work, service, and advocacy.
Portfolio:
Community Wellness
Early Years
Reclamation & Healing
Women's Initiatives
Crisis Response Team & Support
Justice Research & Policy
Mental Health & Addictions