Event Calendar

NAN/Carleton Youth Leadership Summer Program
July 22
@
12:00 pm
–
July 26
@
9:00 pm
Nishnawbe Aski Nation is currently working with Carleton University and YES Employment Strategies to host the First Annual Youth Leadership Summer Program.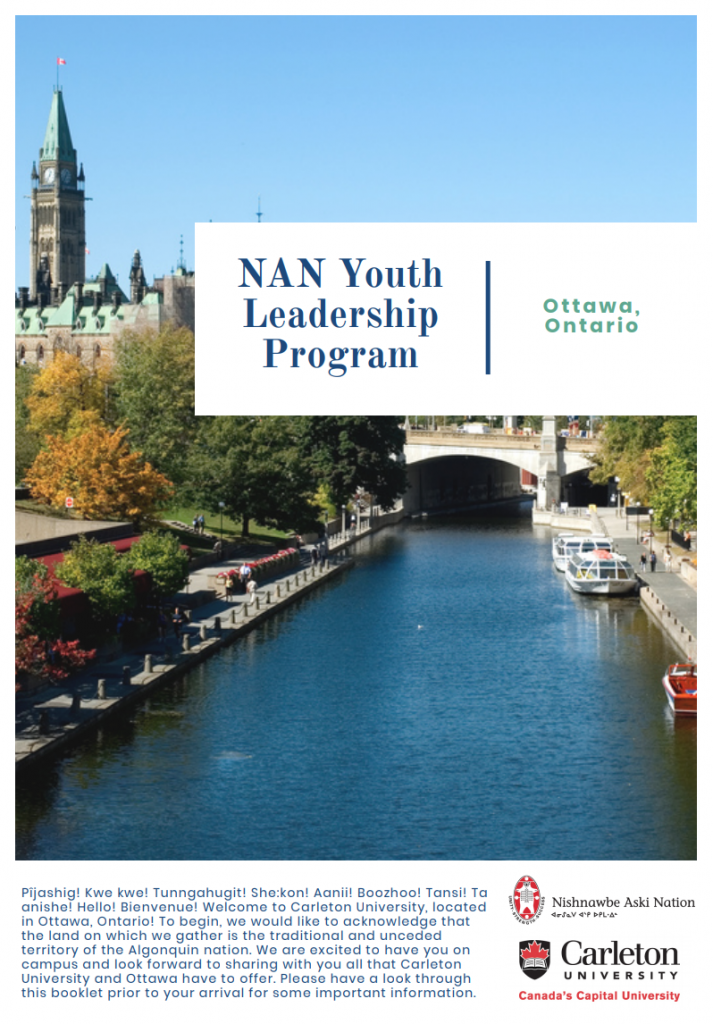 As part of the program, we have planned a week (July 21st-26th) this summer for youth to visit Carleton University in Ottawa. Experts and educators from Nishnawbe Aski Nation and Carleton University will jointly deliver leadership workshops and information sessions that will support the ability of the youth to shape the future of their communities; As well as providing opportunities to explore places of interest in our nation's capital, like the First Peoples Hall and a visit to Parliament.
Through this program, we hope to see youth across NAN territory become more involved in education self- government. It is our intention to provide an experience for our youth that broadens their horizons inspiring them to continue their education. We would be grateful if you could collaboratively choose one youth to participate in this important opportunity; Assisting in establishment of youth ambassadors for the work ahead in regards to self-governance and leadership.
Nishnawbe Aski Nation's Education Department would like to invite a youth from your community with the following criteria:
An indigenous youth between the ages of 17-21;
from one of the 37 Participating First Nation (Agreement in Principle);
must have written consent from a parent or guardian;
must have a valid form of Photo ID; and
shows interest in their communities or
Travel and accommodation costs will be covered. Travel days are Saturday, July 20th, 2019 and Saturday, July 27th, 2019. Air travel will be booked by NAN staff with the most economical arrangements made to keep the overall costs to a minimum.
Please note that registration has closed.