Event Calendar

NAN Chiefs Spring Assembly
May 10
@
12:00 pm
–
May 12
@
9:00 pm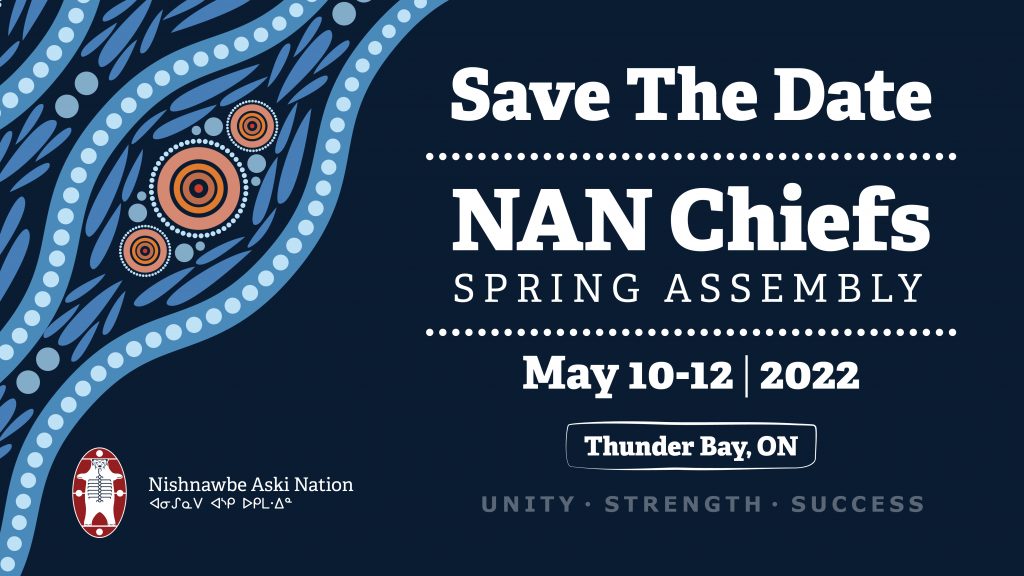 The NAN Chiefs Spring Assembly has been scheduled for May 10, 11, & 12, 2022. This hybrid meeting will take place at the Delta Hotel in Thunder Bay, ON.

CONFIRMATIONS / REGISTRATION
Registration is now open Chiefs/Proxies are asked to complete a registration form to confirm his/her attendance on the link provided here: Click here for registration link.

PROXIES
If you are unable to attend, a proxy may be sent. Proxy notice must be sent in advance on letterhead and signed by the Chief and Council or a quorum of the Council. This letter will ensure that the proxy has full conference privileges to act on your behalf. The designated proxy should bring the original letter to the meeting. A sample proxy letter is attached.
Please send proxy letters to the attention of Miranda Echum via email mechum@nan.ca or by fax (807)-623-7730.

TRAVEL ARRANGEMENTS
Travel will be covered for Chiefs/Proxies. Travel days are Monday May 9, 2022, and Friday May 13, 2022. Air travel will be booked by NAN staff or for the use of a personal vehicle; mileage will be covered and based on the NAN rate. As required by NAN Chiefs Finance Committee, the most economical arrangements will be made to keep the overall costs to a minimum.

ACCOMMODATIONS
Accommodations for Chiefs/Proxies, Elders, Women & Youth Councils, and guests of NAN will be booked by NAN Staff.

NAN ELDERS, WOMEN AND YOUTH COUNCILS
The NAN Elders Council, Women's Council and the Oshkaatisak (Young Peoples) Council are invited to attend. NAN will cover their travel expenses and accommodations. NAN staff will contact Elders, Women and Oshkaatisak members directly to register and make arrangements.
First Nations and Tribal Councils bringing additional Elders are responsible for all expenses incurred including travel, accommodations, and honorarium.

Elders and Oshkaatisak Council's registration contact is Kelsey Demontigny, she can be reached by email kdemontigny@nan.on.ca or phone at (807)-620-9954 /1-(800)-465-9952.

Women's Council registration contact is Jamilee Wanakamik she can be reached at jwanakamik@nan.ca or by phone at 1-(800)-465-9952.

RESOLUTIONS-DEADLINE: FRIDAY April 29, 2022
Resolutions to be considered at the Assembly can be forwarded electronically to Luke Hunter at lhunter@nan.on.ca or via fax at (807)623-7730.

OPEN CALL TO CHIEFS FOR AGENDA ITEMS – DEADLINE: FRIDAY April 29, 2022.

If there are any priority issues or items that you wish to discuss at the NAN Chiefs Spring Assembly, please contact Melinda Meekis by email mmeekis@nan.on.ca or by phone at (807)-708-3173/ 1-(800)-465-9952. Open call for agenda items is for Chiefs only.

If you require any additional information or require clarification, please contact Charlene Yerxa by email cyerxa@nan.on.ca or phone at (807)-625-4914 /1-(800)-465-9952.